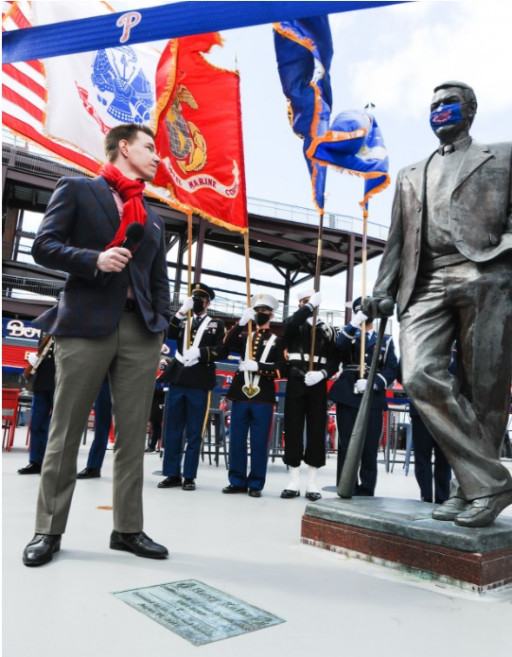 Kane Kalas
Kane and Harry Kalas
PHILADELPHIA, February 10, 2023 (Newswire.com) - Kane Kalas, son of Hall of Fame Philadelphia Phillies sportscaster Harry Kalas, has released his rendition of the "Eagles' Victory Song" to commemorate the team's place in the big game.
The "Eagles' Victory Song," commonly referred to as "Fly, Eagles Fly," has played a major part in Philadelphia sports culture since the 1950s. While several artists have covered the piece, Kane's version is unique, with a marching band feel and operatic vocals delivered by the classically-trained recording artist. Kane's "Eagles' Victory Song" evokes excitement and suspense; think John Philip Sousa, with maybe a splash of Mendelssohn.
The cover opens with a touchdown monologue voiced by legendary Philadelphia Eagles sportscaster—and the longest-tenured announcer in the NFL—Merrill Reese.
"The 'Eagles' Victory Song' is not only the fight song of the Philadelphia Eagles; in many ways, it is the fight song of the city of Philadelphia itself," says Kane.
"If you're ever in Philly when the Eagles are playing—it doesn't matter where—you're sure to know whenever the Eagles score a touchdown by the rumbling of 'E-A-G-L-E-S EAGLES' from a chorus of fans throughout the city. There's nothing more electric than being among a sea of fans at the Linc during a game and joining them in the chant after the Eagles score."
In addition to his role as the Phillies play-by-play broadcaster, Kane's father, Harry Kalas, frequently broadcasted Eagles games for Westwood One. Kane vividly remembers watching the games with his father growing up and cheering on the Eagles. "I must've been four years old the first time I watched an Eagles game with my dad—the Eagles scored a touchdown, and he began to bellow the 'Eagles' Victory Song.' It was the first time I had heard it," Kane recalls. "He was a true homer. Dad often said there were no sports fans in the world as enthusiastic as Philadelphia fans; that's why he pledged to spend his entire broadcasting career in Philly."
Kane's forthcoming album High Hopes is lovingly dedicated to his father and the city of Philadelphia.
Listen to his cover of the "Eagles' Victory Song" here.
Connect with Kane Kalas
Website // Instagram // Facebook // Twitter // YouTube // TikTok
###
Contact Information:
Ariel Hyatt
CEO and Publicity, Cyber PR
[email protected]
Original Source:
Kane Kalas, Son of Hall of Fame Sportscaster Harry Kalas, Releases His Rendition of the 'Eagles' Victory Song' as the Philadelphia Eagles Advance to the Big Game