Colorado Company Handcrafts +300 Exceptional Everyday Products With 100% THC-Free Hemp-Based CBD for People & Pets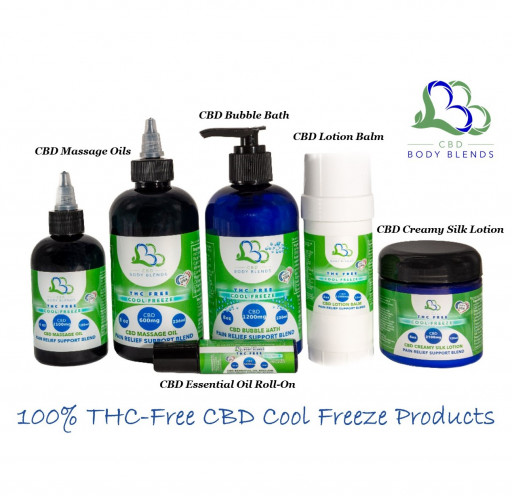 CBD Body Blends Cool Freeze Product Line
100% THC-Free CBD
PUEBLO, Colo. - November 1, 2022 - (
Newswire.com
)
On a mission to help people Have a GREAT THC-Free DayTM through better health and wellness without impairment, CBD Body Blends has created a cooling (not numbing) blend it calls Cool Freeze to five of its most popular products.
The Colorado-based company's new CBD Body Blends Cool Freeze line of products includes Bubble Bath, Creamy Silk Lotion, Essential Oil Roll-On, Lotion Balm and Massage Oil, as well as the CBD Cool Freeze Try It Sampler / Traveler Kit, which features handy travel-sized samples for people who want to try before they buy.
CBD Body Blends uses premium Colorado-grown hemp CBD, which has 0.00% THC, in all its custom-crafted products, as well as the highest-quality initial ingredients infused with select essential oils, natural flavoring and other beneficial ingredients for purposeful wellness and relief support blends. The extensive ZERO THC product line includes yummy-flavored oral drops for both people and pets, no-mess massage oils, creamy lotions, flavored lip balms, essential oil roll-ons, bath fizzies, bubble baths, face moisturizers, spa face masks and more in a variety of flavors, blends, sizes and milligrams.  
"We custom-craft onsite a variety of fantastic 100% THC-free everyday CBD products for pain relief support for pets and people, as well as specific blends for stress, migraine and feminine relief, better immunity and sleep and to breathe easier, dream sweet and unwind. Cool Freeze is our latest blend - we've enhanced five of our most popular products with a menthol-based cooling ingredient that smells amazing and our customers are loving them," said Michelle Duncan, chief people and pet advocate. "These are purposeful natural wellness and relief support products. Everything is affordably priced and, without hesitation, we'll put our premium CBD products - that work - up against any large or small CBD company out there. Over the last four years, we have listened to our customers, who are specifically shopping for CBD without THC, and added more products, blends, flavors, sizes and milligram options. All of our products have been designed for our customers, with purpose."
CBD for People: vimeo.com/722729241
CBD for Pets: vimeo.com/703473037
* Online savings code FREEZE10 (regularly priced items).
ABOUT CBD BODY BLENDS
CBD Body Blends, a family-owned company creating people and pet products for purpose, is on a mission to help people understand CBD and guide them to products that will work best for them so they and their pets Have a GREAT THC-Free DayTM through better health and wellness without impairment or side effects. We handcraft onsite more than 300 Fantastic Everyday Products You Would Use Even Without the Awesomeness of 100% THC-Free Hemp CBDTM. We're "That CBD Shop on Abriendo"TM. Also in La Junta. Rocky Mountain Naturals WITHOUT the HighTM. A+ BBB rating.

CONTACT: hello [at] CBDBodyBlends [dot] com
FOLLOW: facebook.com/CBDBodyBlends.com
Contact Information:
Michelle Duncan
Chief People & Pet Advocate
719.542.4CBD (4223)
Press Release Service by
Newswire.com
Original Source:
CBD Body Blends Adds Cool Freeze Blend to Five of Its Most Popular 0.00% THC Products