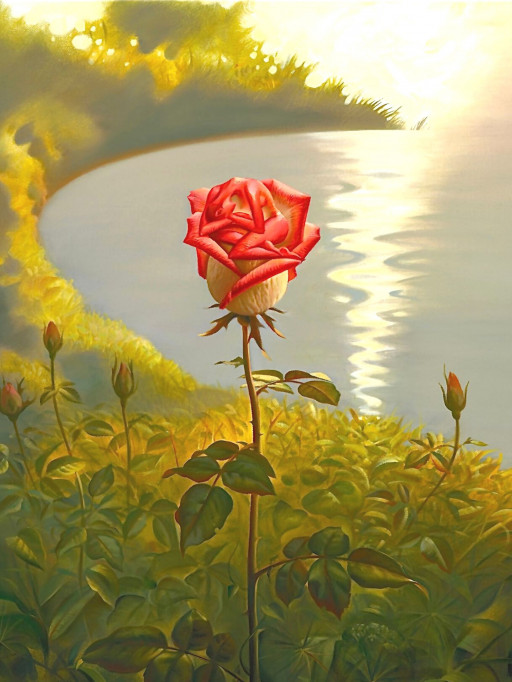 AWAKENING
By Vladimir Kush
LAS VEGAS, February 1, 2023 (Newswire.com) - World-renowned artist Vladimir Kush unveiled a new Metaphor of Love masterpiece titled "Awakening" — Oil on Canvas (23"x17"). This is one of the artist's "floral motif" paintings alongside some of his previous best sellers such as New Day, Miracle of Birth, Morning Blossom, and Sunset Stillness.
The artist released a Limited-Edition Giclee on Canvas (22"x16.5") of this artwork to his collectors and art enthusiasts, taking the market by storm just a few weeks before Valentine's Day and his anticipated exhibit at Art Wynwood in Miami. This new print by the artist has made a connection with the public, bridging the gap between Dreams and Metaphorical Reality.
In a combination of world mythology, fairy tales, and poetry, Kush explains the symbolism and meaning behind his art. "In the Western tradition, the rose is the perfect model of a flower, a symbol of the heart, of the center of the universe, of the cosmic wheel and, of course, an emblem of divine, romantic and passionate love.
"At the forefront in the painting, we see a rose in full bloom, its petals turning out eagerly towards the rising sun — a motion resembling that of a beautiful woman waking up in the morning. It is reinforced by the surrounding sister-buds quietly waiting in readiness to unfold in similar glory. This upward thrust, to join sunshine and love, is set against the backdrop of the contrastingly still oval of the lake. And the shape of the half-opened budding flower head becomes a goblet filled with the elixir of everlasting life."
Visit Kush Fine Art Galleries in Las Vegas, Laguna Beach, Maui, and Miami Beach to see a collection of artworks by the artist, featuring original paintings, limited-edition prints in several mediums, bronze and silver sculptures, a unique jewelry line, art books, calendars, and a wearable art collection. For more information, contact Kush Fine Art at [email protected] or visit www.kushfineart.com, and follow Vladimir Kush on Instagram, Facebook, Twitter, and YouTube for more content, news, and the latest on events, exhibitions, and new releases.
Contact Information:
Jorge Barrera
Marketing Director
[email protected]
Original Source:
Vladimir Kush Unveils a New Metaphor of Love Titled 'Awakening'