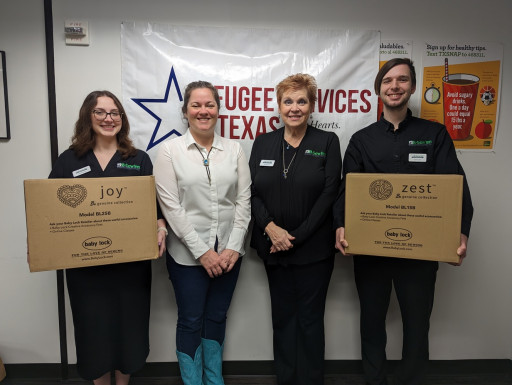 B Sew Inn Delivers Baby Lock Sewing Machines to Refugee Services of Texas
B-Sew Inn team members, from left to right, Whitney Harris (Sewing Consultant), Cheryl Graves (Store Manager), and Samuel Millican (Sewing Consultant). RST Area Director, Jennifer Linscomb
HOUSTON, March 1, 2023 (Newswire.com) - Refugee Services of Texas has received a donation of 10 Baby Lock Sewing Machines, private sewing classes and notions from B-Sew Inn Sewing and Software Center, a valued customer of Tacony Corporation.
The donation from B-Sew Inn will be utilized for sewing classes and as donations directly to clients. Sewing machines will provide the clients with a creative outlet and help them gain financial stability. The women served especially benefit from access to sewing machines because they can work from home as tailors to support their families.
"We are deeply grateful for their support and generosity, which will help us continue our mission to provide compassionate and quality support services to refugees and other vulnerable populations. We are excited to put this contribution to work and make a difference in the lives of the people we serve." Jennifer Linscomb, Area Director for Refugee Services of Texas.
Refugee Services of Texas has been providing support to those in need across Texas for over 40 years. They are dedicated to serving refugees, asylees, survivors of human trafficking, and other vulnerable populations and strive to make a positive impact in the community. For more information about Refugee Services of Texas and how you can support their work, please visit www.rstx.org.
"We are so pleased to support this important organization and their mission to support those in need in the Houston community." Mary Hess, Owner B-Sew Inn.
B-Sew Inn is the world's largest Baby Lock retailer with six locations across Oklahoma, Missouri, Arkansas, and the newest location outside of Houston in Humble, TX. B-Sew Inn offers superior education and service to all customers, along with incredible products, including Baby Lock Sewing Machines, Koala Sewing Furniture, and a variety of sewing essentials. For more information about B-Sew Inn, visit www.bsewinn.com
Baby Lock USA and Canada is brought to you by Tacony Corporation. To learn more about Baby Lock and Tacony, visit www.tacony.com.
Contact Information:
Emily Dameron
Director of Marketing, Sewing & Home Floor Care - Tacony Corporation
636-349-3000
Original Source:
Refugee Services of Texas Receives Donation From B-Sew Inn