No matter the age or experience with technology, with Heiroom everyone has a voice. Generational stories are important because they help us to connect with our past, understand our present and shape our future.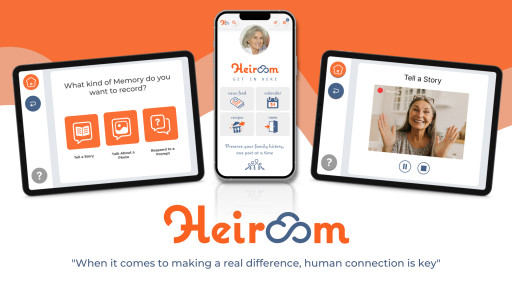 Heiroom
Example of UI and EUI
ANN ARBOR, Mich., January 23, 2023 (Newswire.com) - Heiroom, the private social platform, is proud to announce partnerships with retirement communities around the world to help combat the isolation and depression that can occur in older adults. The partnership will provide Heiroom's secure, private, ad-free environment to seniors, allowing them to connect and interact with family, friends, and other residents in a safe and secure manner.
Heiroom's features, such as secure messaging, file sharing, photo albums, and video streaming, will enable seniors to stay connected, share meaningful moments and experiences, and stay in touch with the outside world. These partnerships are focused on reducing the feeling of loneliness, helplessness, and depression that often accompany senior living.
Heiroom's intuitive interface makes it easy for seniors of all ages and tech-savviness to use and navigate. This will enable them to maintain their independence and privacy while staying connected with their loved ones.
"At Heiroom, we are passionate about creating a premier private community platform that allows families to stay connected over time in a safe and secure manner," said Chris Budnik, Founder of Heiroom. "Our partnerships with retirement communities are a step forward in our mission to combat isolation and depression that can occur in older adults. We are confident that Heiroom will help seniors stay connected with their family, friends, and other residents while bringing joy and inclusion. Heiroom's future is bright, and we are focused on our work having a positive impact on society."
Heiroom is committed to creating a sense of belonging and community while providing a safe and secure alternative to traditional social media. With new partnerships, Heiroom is taking steps forward in empowering communities big and small to form a better tomorrow.
Website - www.heiroom.family
iOS app - https://apps.apple.com/us/app/heiroom/id1548942878
Android app - https://play.google.com/store/apps/details?id=com.heiroom.droid&pli=1
Contact Information:
Mary Sheets
Media
[email protected]
734-800-1164
Related Files
Slides Heiroom Kathy.pdf
Original Source:
Heiroom App - Focused on Empowering Family Connection Across Generations