In 20+ meetings and engagements with legislative offices and key leaders at CARB, the association shared scientific expertise and best practices that advance sustainable innovation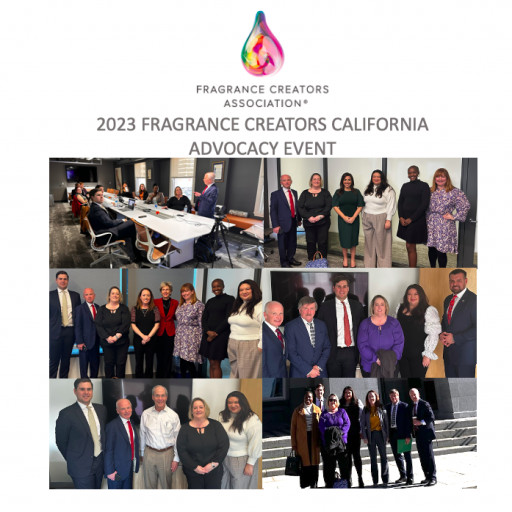 FCA 2023 CA Advocacy Event
Pictures of Fragrance Creators' members with various California Assembly Members, Senators, and staffers
WASHINGTON, January 25, 2023 (Newswire.com) - From Jan. 20 through Jan. 24, 2023, Fragrance Creators Association (Fragrance Creators) members joined together in Sacramento, California, to share information that helps the state's regulators and legislators advance policies that empower the fragrance value chain to accelerate sustainable innovation and meet evolving consumer needs. Over the course of three days, Fragrance Creators engaged with leadership at the California Air Resources Board (CARB) as well as California Assembly Members, Senators, and their staffs. Discussions included education on deeper technical science, as well as the important role of fragrance in industry stewardship, sustainability, and consumer education.
During the meeting with CARB staff on Jan. 20, Fragrance Creators highlighted the safety of and science behind fragrance ingredients, the essential role scent plays in various products, and the innovative ways the industry is working to protect the environment. This meeting comes as the new CARB consumer product VOC amendments are beginning to come into effect.
"Fragrance Creators has had a longstanding relationship with CARB built upon mutual respect and science-based conversations," said Amanda Nguyen, Fragrance Creators' Vice President of Government Affairs and Legal. "Through that, we have found much common ground. As our members work to comply with the requirements of the VOC regulations and to communicate the challenges they pose, we are pleased to continue to strengthen our relationship. We extend our thanks to CARB staff for their time and look forward to working with them going forward."
On Jan. 23 and 24, Fragrance Creators members had over 20 engagements with Assembly Members, Senators, and their staffs, including a briefing for the staff of key policy committees including the Assembly Natural Resources Committee, the Assembly Environmental Safety and Toxic Materials Committee, and the Senate Environmental Quality Committee. These meetings centered around the kinds of policies that promote sustainable innovation in the fragrance industry and beyond. Fragrance Creators also leads a coalition comprised of industry stakeholders and while in California hosted a briefing of this coalition to strengthen communication and coordination amongst industry.
"By meeting with legislators early in their legislative session, we are able to ensure they're clear on the kinds of policies that will allow our industry to do its part to deliver more good for people and the planet," said Farah K. Ahmed, Fragrance Creators' President and CEO. "We will continue to leverage our network of over 1000 scientists and technical experts to educate key stakeholders in California, and beyond, throughout the year."
###

Fragrance Creators Association is the trade association representing the fragrance industry at large. The organization represents the majority of fragrance manufacturing in North America and provides comprehensive representation on an array of matters. The association also represents fragrance-related interests along the value chain, which allows for better outcomes in advancing good for business and the public. Fragrance Creators' membership is diverse, including companies that create, manufacture, and use fragrances and scents for home care, personal care, home design, fine fragrance, and industrial and institutional products, as well as those that supply fragrance ingredients, including natural extracts and other raw materials that are used in perfumery and fragrance mixtures. Fragrance Creators established and administers the Congressional Fragrance Caucus, ensuring ongoing dialogue with members of Congress and staff. The association also produces The Fragrance Conservatory, the comprehensive digital resource for high-quality information about fragrance. Learn more about Fragrance Creators at fragrancecreators.org—for people, perfume, and the planet.
Contact Information:
Katie Cross
[email protected]
Original Source:
Fragrance Creators Holds a Three-Day California Advocacy Event Engaging Members of the California Legislature and Air Resources Board