The 100 Acre Enclave Off-Road Experience to be named "The Enclave Off-Road Experience presented by Morgan Auto Group"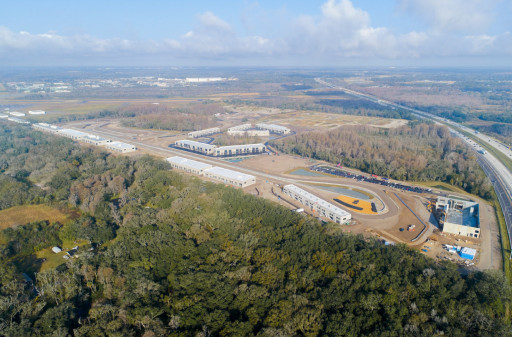 The Motor Enclave Construction Site
Aerial View of The Motor Enclave Construction Site
TAMPA, Fla., January 24, 2023 (Newswire.com) - The Motor Enclave announced today that it has entered into a multi-year alliance with The Morgan Auto Group to be "The Official Automotive Retailer" of the 200-acre experiential motorsports venue conveniently located at the corner of I-4 and I-75 less than 15 minutes from downtown Tampa. The deal provides Morgan with special access to use the facility for a variety of team and customer events, including the exclusive ability to provide customers who purchase select performance vehicles with trackside delivery and driving experiences.
The Morgan Auto Group will receive exposure in key locations throughout the development, most notably having its brand integrated into the name of the 100-acre off-road experience and being the inaugural year presenting sponsor of a quarterly "Enclave Cars and Coffee," which is anticipated to be the largest gathering of cars in the region.
Additionally, Morgan Auto Group will provide its skilled technicians to operate an on-site maintenance/performance shop called "The Enclave Speed Shop powered by Morgan Auto Group," where Enclave Private Garage owners and members of the Enclave Motorsports Club can have maintenance performed on their vehicles, including oil/tire changes, track safety inspections, after-market performance parts installation and more.
"When we learned about The Motor Enclave coming to Tampa, we knew we had to be involved in some manner," said Brett Morgan, Chief Executive Officer of Morgan Auto Group. "After learning of Brad Oleshansky's success in working with franchise dealership groups at his initial project in Michigan, M1 Concourse, it became apparent that The Motor Enclave will be the perfect venue to engage current and prospective customers, train and reward our staff, and extend the Morgan Auto Group brand beyond our retail footprint. With our enthusiast brands like Porsche, Audi, Lamborghini, Lexus, BMW, Maserati, Jeep, Subaru, Land Rover, Ford and more, we are really excited for the unique experiences our customers will be able to have at The Motor Enclave."
"We are thrilled to have Morgan Auto Group as our first official partner at The Motor Enclave. The diversity of brands represented in Morgan's portfolio of retail stores aligns perfectly with our goal to deliver engaging experiences to owners/members, corporate clients and the general public, each of whom may have a personal affinity for a particular brand," said Brad Oleshansky, Founder and CEO of The Motor Enclave. "Additionally, the fact that Morgan now has 28 stores across the greater Tampa Bay area and Sarasota, including the #1 Jeep dealership in the nation, makes Morgan the perfect fit for our 100-acre purpose-built off-road experience."
About Morgan Auto Group
Morgan Automotive Group (www.morganautogroup.com) is one of the largest automotive dealer groups in the nation, ranked #8 by Automotive News. The Tampa-based business has 61 franchised dealerships across Florida representing 30 manufacturers including most domestics and imports, as well as luxury brands, including Morgan Import Motorcars. Each dealership offers new, certified pre-owned and quality used vehicle sales, as well as vehicle parts, maintenance and repair services. The company's famous slogan, "When You Make It Morgan, We Make It Happen" is the cornerstone philosophy for all of Morgan's customer service and operations.
About The Motor Enclave
The Motor Enclave is the premier developer of experiential motorsports venues in North America. Our 200-acre development in Tampa, Florida, includes a 1.6 -mile Hermann Tilke-designed driving circuit, a 2-acre vehicle dynamics pad, a 100-acre off-road experience with miles of purpose-built trails, a 37,000 -quare-foot corporate event center and the largest Private Garage community in the world. Every adrenaline-filled detail has been designed and engineered around delivering memorable experiences to our owners/members, corporate clients and the general public. Complete details can be found at www.themotorenclave.com. The Motor Enclave is on track for a March 2023 grand opening.
Contact Information:
Brad Oleshansky
CEO
[email protected]
Hank Johnson
Marketing Manager
[email protected]
8649181802
Original Source:
Morgan Auto Group Named 'The Official Automotive Retailer' of the Motor Enclave Tampa