Triana Paper Crafts achieves two milestones in first quarter 2023 that represent growth to the female business owner.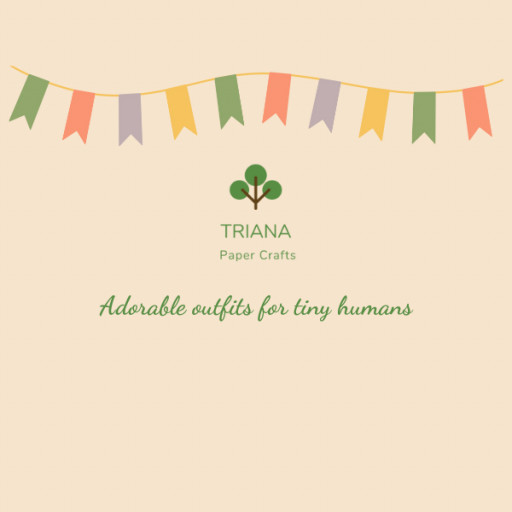 Triana Paper Crafts
This year marks the celebration of two milestones for Michele Triana, owner of the Etsy shop Triana Paper Crafts.
TAMARAC, Fla., February 5, 2023 (Newswire.com) - This year marks the celebration of two milestones for Michele Triana, owner of the Etsy shop Triana Paper Crafts. As of January 2023, the shop has sold 4000+ items, and March marks the three year anniversary of the online store. To the owner, these are important achievements that demonstrate continued growth for her small handmade craft business.
Michele opened Triana Paper Crafts in March 2020 at the beginning of the COVID pandemic. Instead of seeing the need to stay home as a negative, she used the opportunity to fulfill her dream of starting her own business.
Triana Paper Crafts began as an online store for unique gift card holders, which the shop still sells. However, the shop quickly evolved into its current popular offerings of "Adorable Outfits for Tiny Humans," selling custom outfits for babies and toddlers.
The shift to baby outfits with cute sayings occurred through Michele's desire to continue stretching her creativity. She began making designs for herself and sharing photos of them with her friends, who encouraged her to expand her Etsy shop to include the designs as well.
The new line expanded a second time as a result of customers requesting larger sizes as their babies grew as well as customers seeking complementary outfits for older siblings. In response to these requests, Michele increased her store's products to include sizes through age five.
With over 25 years in human resources, public relations, and other customer service-oriented positions, Michele prides herself in offering an exceptional customer service experience for her shoppers.
"Customer service is a top priority for me," shares Michele. "I'm proud of the fact that I've been an Etsy star seller every month since the program was launched in July 2021."
An example of this devotion to top-quality customer service is that Michele sends her shoppers a photo of the purchased item to see for themselves if the item is being directly shipped to a third-party as a gift. Her customers share with her that they appreciate this extra step, allowing them to see exactly what their gift-recipient is receiving.
Triana Paper Crafts plans to continue expanding their offerings as Michele learns more about the design process. Currently, her two favorite designs in her Etsy store are the Future Fashionista and Golden Birthday bodysuits. These designs required Michele to master an advanced layering technique.
"The more I learn, the more excited I get because that means that I can offer my customers even more variety," remarks Michele.
Michele's two favorite designs as well as all of Triana Paper Crafts' products may be viewed in her Etsy shop at trianapapercrafts.etsy.com. The store accepts custom design and personalization requests as well as offering a VIP club that includes a 15% discount coupon upon joining.
Contact Information:
Michele Triana
Owner
[email protected]
Original Source:
Etsy Baby Toddler Shop Celebrates Three Years and 4000 Sales