Equipping every military service member, milspouse, and veteran with the tools they need to easily build the financial stability they deserve.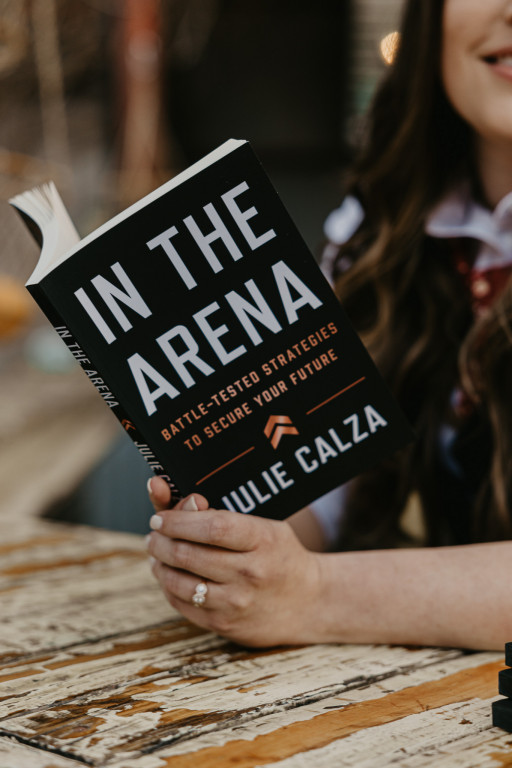 Julie Calza holding In The Arena
Julie Calza holding In The Arena at the Book Launch Party. Calza is helping any military member, military spouse, or veteran have more financial stability.
GLENDALE, Ariz., March 13, 2023 (Newswire.com) - Military members, military spouses, and veterans who sacrifice for the defense of this country are struggling to live within their means; Julie Calza's new book "In The Arena: Battle Tested Strategies to Secure Your Future" provides the resources they need to have more stability so they can thrive versus just survive the effects of military life.
In a world where so-called "experts" fill pages with general clichés, Calza sets herself apart by clearly providing the framework the reader needs to identify their goal apart from their military service, then offering actionable steps to achieve stability in an otherwise unstable lifestyle and giving practical advice to overcome obstacles along the way. Calza's "battle-tested" approach leaves her readers feeling empowered and ready to tackle whatever life throws at them.
As a military family, we are often so focused on trying to survive that next PCS or deal with the obstacles of day-to-day life that we forget to plan for that future stability we so desperately crave. The one where we feel like we have finally made it and can finally soak up the riches of our labors/sacrifices. The problem that Julie so expertly addresses is that the military isn't designed to help you beyond the mission requirements."

- Steph Barnett, Military Spouse
All profits from book sales this year are being donated back to the military community through Fighter Country Foundation, an organization committed to bettering the lives of military members. Additionally, every share and every sale helps to bring more awareness to the challenges military families are facing in today's economic climate. You can find "In The Arena: Battle Tested Strategies to Secure Your Future" by Julie Calza on Amazon, Barnes and Noble, and more. Learn more about the book, the mission, and Julie Calza at www.postmilitaryfuture.com.
"In the Arena delivers lessons and winning strategies on life, real estate, military life, and frankly a down-home, honest, and practical way to approach career, family, and life for everyone. Julie weaves her life, her business, her clients, and her family in stories throughout the book, and they're worth their weight in gold. I love that this was easy to pick up, easy to finish, easy to follow, and easy to look back at afterwards as a how-to and reference for your journey." - Richard Wille, Active Duty Military
About Julie Calza:
Julie is a former Marine, military spouse, and business owner. She founded the CalzaCo Team in 2016 after struggling to find trustworthy Real Estate solutions in the marketplace for military members, veterans, and their families. Julie Calza quickly rose to the top of her field and is a licensed Broker and the CEO of CalzaCo - #1 service provider for VA Loan Real Estate Transactions in AZ. She is a military advocate who works to support Luke AFB and organizations that aim to better life in the military community as a whole.
Contact Information:
Julie Calza
Author "In The Arena", CEO of CalzaCo
[email protected]
(623)242-2900
Brittany Molina
Executive Brand Assistant
[email protected]
(623)242-2900
Original Source:
CalzaCo Founder and Author Julie Calza Releases Must-Read Book for the Military Community